SOGO
is a Japanese department store with two locations in Hong Kong, and more pertinently for this blog, paradoxically
bi
-annual "anniversary" sales during which all the beauty counters offer cosmetics 'bundles' at hefty discounts. And all oddly delicious Japanese snacky things are 10% off. And of course every single department on each of of the twenty-something floors also had offers on. But I didn't get to witness those personally, because, well, here are some phone pics of what the ground floor beauty hall looked like:
Shiseido, Cosme Decorte and Lancôme counters -- the orderly sea of heads at the back in the upper left hand corner are lining up for the MAC store
Estee Lauder, Dior and Clarins -- this part of the beauty hall was particularly mad, as it was surrounded by various designer bag concessions, each with their own line (you can see Gucci there at the back). Also check out the scary ghostly blurs in the foreground, closing up the tiny gap that opened up just long enough for me to take this.


Sofina, Ipsa, Kanebo, Burberry. Estee Lauder again.


Sofina may look abandoned but that's simply because it was
by far
the most popular sale (no-one left it without buying at least 6 full sets of skincare), and had a specially cordoned-off queue of military precision prepared:
This is less than halfway down the Sofina queue -- the tiny red+white sign in the distance is where the line starts.
These aren't even the most crowded scenes -- in those I was borne along by the wave o' humanity and couldn't even lift my arms to take pictures.
See those colourful pamphletty things people are studying?
Here's one full unfolded page out of eight:
It details the best weekly deals and the rotating daily specials for each brand in every sub-department; for further info on particular brands you'll have to contrive to be borne past the concession in question, all of which are womanned by ultra-efficient SA's handing out more detailed flyers:
flyers from YSL, Burberry, Shu Uemura, Sofina, Kanebo, Ipsa, SK-II, Shiseido and Helena Rubinstein
....yeah, I think I have PTSD.
I thought I was
prepared!
I'm a Londoner, ferchrissakes, not exactly unused to consumerist crowds. *sigh* Lesson learned (
again
): DO NOT MESS WITH ASIANS DURING A SALE.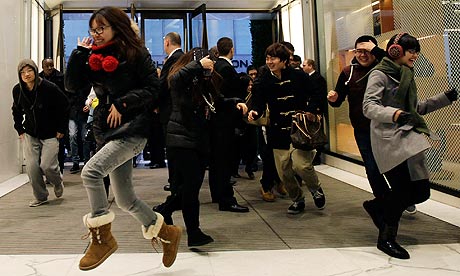 The first entrants to last Christmas' Selfridges sale from The Grauniad. If you spotted non-Asians in this picture -- they're Selfridges staff XD
So what
did
I leave with? Sets from Lunasol, Burberry, Shu and Ipsa for friends. And for myself:
Burberry Earthy blush, Hibiscus lip cover, and a black canvas and leather makeup bag for HK$490, and Midnight Brown eyeshadow thrown in for an extra $178.




For the record (comparison swatches to come in review):
Earthy replaces MAC Strada
Hibiscus replaces Shu RD 178M
Midnight Brown is a legit breaking of the low-buy -- I'll be curious to see if I have any dupes lurking in my stash back home
I was also very tempted by (but womanfully resisted) another Burberry set containing an eyeshadow, eyeliner pencil, no.9 socket brush and a compact mirror for $440 (!), and the Lunasol 'starter kit' consisting of the decade-long bestseller Skin Modelling Eyes
Beige Beige
, a lipgloss, a cream blush and a choice of liquid or jelly single eyeshadow, in a makeup pouch for $620.
The best thing about this sale for me was the ability to make your own 'collection' by choosing the shades that go into your set. Don't think it'd be enough to tempt me back a second time, though. Overall the most therapeutic part of my haul (after a particularly draining week) was this:
Yakult soda ice cream float :D Aint nothing like brain freeze from friendly bacteria, sugar and fat. (That garnish totally counts as one of my five-a-day, right?)